Welcome at Mermaid Kat Shop
Mermaid tails for everyone – Welcome at Mermaid Kat Shop. This online mermaid shop opened in April 2013 by Mermaid Kat, who is a professional mermaid and underwater stunt model from Germany. In this mermaid shop you can find mermaid tails for children and adults. Check out our high quality fabric and silicone mermaid tails for swimming, as well as other equipment, costumes and "mer"chandise. We hope you enjoy your time at Mermaid Kat Shop.
Check out our Mermaid Fabric Mermaid Tails
Testimonials
The Mermaid Kat Shop is THE address for all mermaids and mermen, pirates and princesses, fairies and elves lovers!
There you can find everything your heart desires, lots of accessories and custom-made products. It's wonderful to browse the shop and you always discover new things.
We can highly recommend the shop!

Melanie Drygalla
The shop is amazing! Costumer service is just beyond anything I've ever expierenced. I ordered a silicone tail for my underwater wedding and like every bride I wanted it to be perfect. It was beyond that! The colours, the fin, the feeling during diving - it was just so perfect. The moment I put it on and the second moment I took it to the water for testing I knew I bought quality. Smooth and comfortable. As a diver I know the critera of monofins, and they just feel like I slip into my diving fins. I also bought a simple monofin for training and its the perfect fusion for freediving and mermaiding, but you know instantly those are made by professionals who really know their stuff.

Nina Rief
Kat is so kind and professional, I cannot recommend her courses highly enough!
Being a mermaid has always been a dream, and I feel her teachings provide a safe and fun foundation to any aspiring performer or hobbyist. The tails are just gorgeous, and the team truly make any vision come true to create your dream tail! I love my glittery mint magic silicone fluke 💖💖💖

Jenia Sanders
My silicone tail is a golden peice of art! Great quality and simply gorgeous. The customer service is great as well. So kind and professional.

Emma Olsson
I got my first silicone tail from Mermaid Kat Shop. The quality is excellent and the size (made exactly to my measurements) fits perfectly! I'm very happy with my beautiful rainbow tail! I also own a fabric tail from them, and I love the vibrant colour so much and the matching bikini is my favourite :)


Dora Varga
A wonderful shop experience. The shop itself is decorated with a love for detail. The products are of great quality. The team is lovely and will do everything for the client to be happy. It truly did so for me.


Ariane Fuchs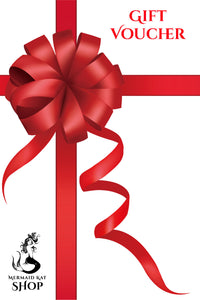 Find out More
Who is Mermaid Kat?
Katrin Gray, aka Mermaid Kat, is a professional mermaid, scuba instructor, freediver and underwater stuntwoman. In her twenties, the former beauty queen from Germany turned her childhood dream into reality and became a mermaid performer. As an ocean activist she swims with marine life such as dolphins, whales, rays, sharks and even crocodiles.
Find out more
Mermaid Tail Collections
We make your mermaid dreams turn into reality. Become an enchanting mermaid or mythical merman. With our mermaid tails you can now discover the underwater world like never before. If you can dream it, you can do it - and we will help you! Helping you to make your dreams come to life is what we live for. Check out our mermaid tail collections.
Check out our Tails
Quality, Safety & Experience
Here at Mermaid Kat Shop, we are water professionals such as scuba diving instructors, freedivers, engineers and underwater stunt performers. With the combination of our skillsets and experience, we were able to develop highly functional and efficient mermaid tails and monofins. Mermaiding is now accessible and safe for all experienced swimmers worldwide.
Find out more