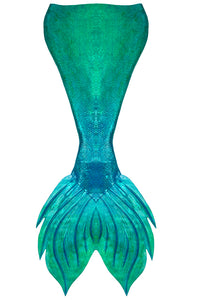 Plus size silicone tails are now available at Mermaid Kat Shop, because we believe that everyone has the right to feel absolutely magical. If your hip measurements are 140 cm or more, you are on the right page. 
Silicone tails are the most realistic looking mermaid tails in the world of mermaiding. They are beautiful body prosthetics with a sensationally realistic appearance and feel.
At Mermaid Kat Shop we are dedicated to creating unique and one of a kind designs. As every mermaid and every merman is unique, so are our tails. That is why we don't copy any previous designs or designs of other tail makers.
At Mermaid Kat Shop each plus size silicone tail is made by hand, with love and passion. Because we only use the highest quality platinum grade silicone, our tails are safe for wear. Our silicone tails are soft and stretchy, almost like human skin.
On this page you can create your dream tail! Choose your favourite fluke. Would you like a dolphin skin or scales? Add extra fins, glitter or a colour shifting chameleon effect.
Send us your design ideas and measurements and we will create the silicone tail you have always dreamed of. Download your silicone tail design template here.
---
When you order your Plus Size Silicone Tail at Mermaid Kat Shop:
We custom make the tail to your provided measurements

One of our professional freediving monofins is included and built into the tail for excellent efficiency and ease in the water

Your tail includes your custom colours - We do not charge extra for colours

You can choose from a large variety of different fluke, scale and extra fin designs 

A drainage system is installed in the fluke 
You can use your tail in chlorinated water as well as saltwater and freshwater 
---
Silicone Tails - Everything is Possible!
We are here to turn your mermaid tail dream into reality. Therefore, we will do our very best to create your dream tail. If you would like a design, that we don't currently offer, please reach out to us. We are open to creating custom designs such as custom flukes. A custom fluke for example, would be an additional USD 1,500 if we are allowed to continue using that design afterwards. If you want a fluke design that's only for you, we charge USD 4,000. The possibilities are endless so feel free to reach out to us at any time.
---
Please note: It is your responsibility to submit accurate measurements for the product that you are purchasing on this website. Please make sure to check our measurements instructions. 
---
Attention: Mermaid tails are NOT BUOYANCY AIDS! Since your legs are tight together, mermaid tails are suitable FOR STRONG SWIMMERS ONLY. The use of mermaid fins in the water should consequently not be used without supervision.
---
Your plus size Silicone Mermaid Tail will take up to 90 days before it is ready to be shipped. 
---
If you would like to send us drawings or other inspirational files for your tail, please do this after you placed your order. Please send an email, including your order number, within one hour after your order placement to: info@mermaidkatshop.com